Biographic details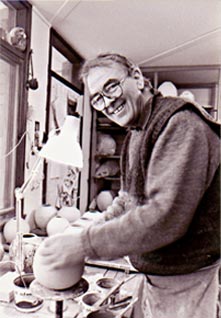 Barry Singleton was born in October 1938, in Ballarat, Victoria. His formal art training centred on sculpture and painting, and finally led to ceramics. In 1970 he established his studio in the native bush land of Castlemaine, from which he draws much of his inspiration.
He is represented in the Bendigo, Castlemaine, Shepparton and Sale Art Galleries, the Victorian Ceramics Group Collection Myer Bicentennial Collection, and private collections in Australia and overseas. He has lectured in China and Japan. His first solo show was held in the Castlemaine Regional Art Gallery the year he established his studio. Many group and solo exhibitions have followed with some work being experimental, and some a development of his concern for simple form and quiet beauty.
In 1976 an opportunity to work with a master potter in Japan was eagerly accepted, and for seven months Barry worked, studied and lived with Yasu Ogawara at Hashima Kiln in Kurashiki. Ogawara is a second-generation potter. His father established the Hashima pottery after WWII, building a five-chamber Noborigama climbing kiln from clay won from the site. Ogawara snr. worked for some time with 'National Living Treasure' Shoji Hamada. Bernard Leach also spent time at Hashima Kama.
The pottery style follows the 'Mingei' folk craft tradition. The Ogawara family have recently been recognized for their contribution to ceramics and culture by the city of Kurashiki. It was in this setting that the disciplines and philosophies of his craft were reinforced. Subsequent trips to China and Japan have also been influential.
Recent work has been strongly about form and colour; about surfaces that demand to be touched. The pieces are cool and austere, soft celadons, blues and greens, warm rusts, deep purples and creamy unctuous shinos that clothe simple full forms, contrasted by cut-sided pots and forms whose surfaces echo nature and the erosion of stone weathered over aeons.